Bialbero Racing
Please select where you would like to go next.
Why do I need a PCD Measuring Tool
Why you need a PCD measuring Tool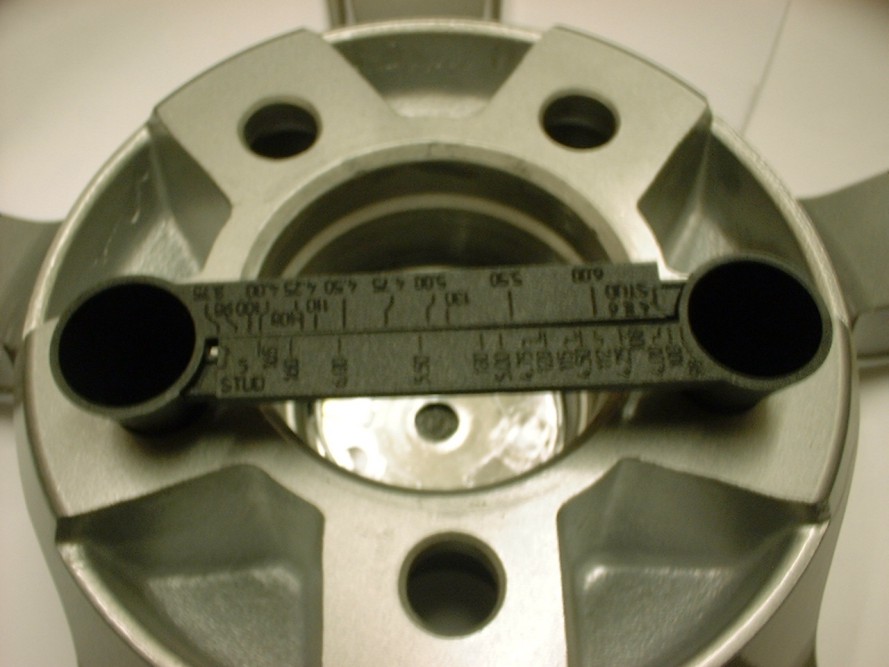 History behind the reason I designed this measuring tool
In the early years of light alloy wheels it was the mass manufacturers that offered alloy wheels as an upgrade on their products.
If you knew which manufacturer the pattern belonged to you knew the PCD.
But as more and more aftermarket wheel manufacturers and suppliers evolved, the same wheel pattern could now be offered with many different PCD options.
This is where a small easy to use PCD measuring tool comes into the equation.
The tool is made from glass filled nylon and will not rust if left in the bottom of a tool box,
It is both small and light enough to carry around and will not bend or break the first time its dropped.
Car Owners, Classic Car Restorers, Custom & Modified Car Builders, Trailer & Caravan Owners any anybody else that has a need to buy light alloy or steel wheels.
Before you buy a second hand set of wheels be they steel or light alloy, be sure you know what PCD you need as well as the PCD of the wheels on offer
Traders
Today as an aspirational purchase many wheel shops like to have a number of wheels on the shop floor for the customers to get close too.
Retail potential: By selling the tool to customers they are able to buy wheels for that kit or other project car they might be building even if they don't know the origin of the axles used on the kit.
Staff potential: Displays look better if they are not constrained by having the original box packaging on show with the wheels, this leaves the problem of matching the wheels to their packaging.
Unlike most existing PCD tool designs this is not based on a vernier type scale; it is contained within the PCD itself.
The PCD Tool only contains 2 parts one 4 & 6-Stud scale & one 5-stud scale, other than the scale the parts are identical so it is possible to have a 4-6 only or 5 only tool if you need to reduce the possible error of reading the wrong scale
Because the scale is within the PCD it will measure rims as small as 5" 127mm inside rim, making the tool useful for finding trailer wheels as well as any full size car & caravan wheels.
The scale is moulded into the plastic so there is no chance of it slipping as the adhesive ages. By designing the ends as cones it is able to find the centre of the bolt hole without a problem, and it is also able to find a PCD from the studs protruding from early type axles by using the hollow of the cone.
Place the cone of the measuring tool into the holes on the wheel across any 2 non-adjacent holes, (Opposite holes in the case of 6 stud patterns) ensure that the cone is seated in the holes

It is then possible to read the PCD directly from the measuring tool by looking at the appropriate scale and reading across to the arrow.
The example shown below is a four stud wheel with a PCD of 4 1/4" (108mm)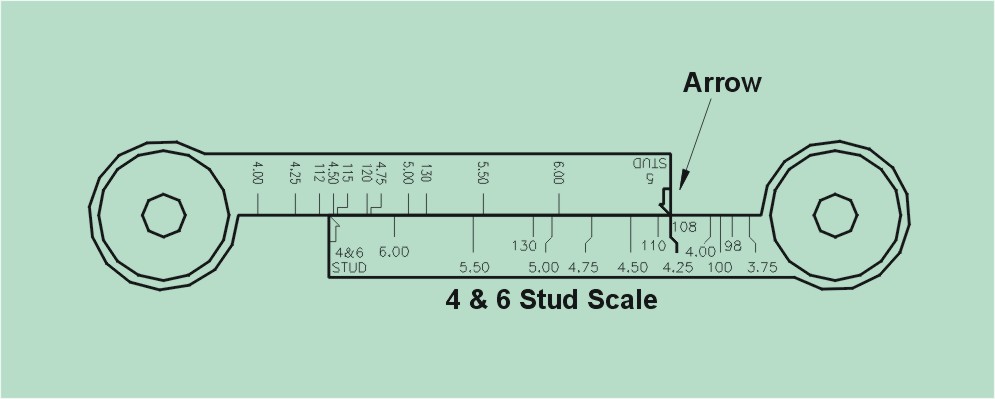 It is also possible to measure axle studs by placing the hollow of the cone over the studs ( some disc brake set-ups may prevent this).
On uni-lug or slotted lug wheels you will need to measure both the smallest and largest PCD to determine if the size you require is covered, these may require the use of special washers.
Prices:
Mail Order Price- UK 4.99GBP / US $10.00 / Europe 7.50Euro
Retail Trade prices available on all orders of 5 or over, Please ask for details stating quantity required.
End user Trade sales available, Please ask for details stating quantity required.
Please make any cheques payable to"Lionel Body" and in UK currency GBP (Stirling)
We bank once a week, so please allow up to 14 days for any cheque to clear, goods will only be posted against cleared funds,
Postage:
UK - 30p
US - $3
Europe -2.50Euro
All Postage is Via Royal Mail Standard 1st Payment: Payment accepted by PayPal to "bialbero-racing@ntlworld.com"
Items are Posted on Thursday of each week.
Bialbero Racing
9 Finch Close
Norwich
Norfolk
NR7 9DX
United Kingdom
or e-mail me on: pcdtool@bialbero-racing.co.uk
Bialbero. Italian for Two Trees the closest they have to Twin cam.
It was used in America as part of their racing efforts using the fiat/lancia TC during the 70's & 80's
Lionel Body (Owner). A self-confessed car nut with a liking for all things automotive.
I have owned all manor of cars from minors to yanks, kits to classics, vans, integrales , rods & hot hatchbacks.
I also hate throwing car mag's away so I now have a library dating back to the late 60's.
MiniWorld June 05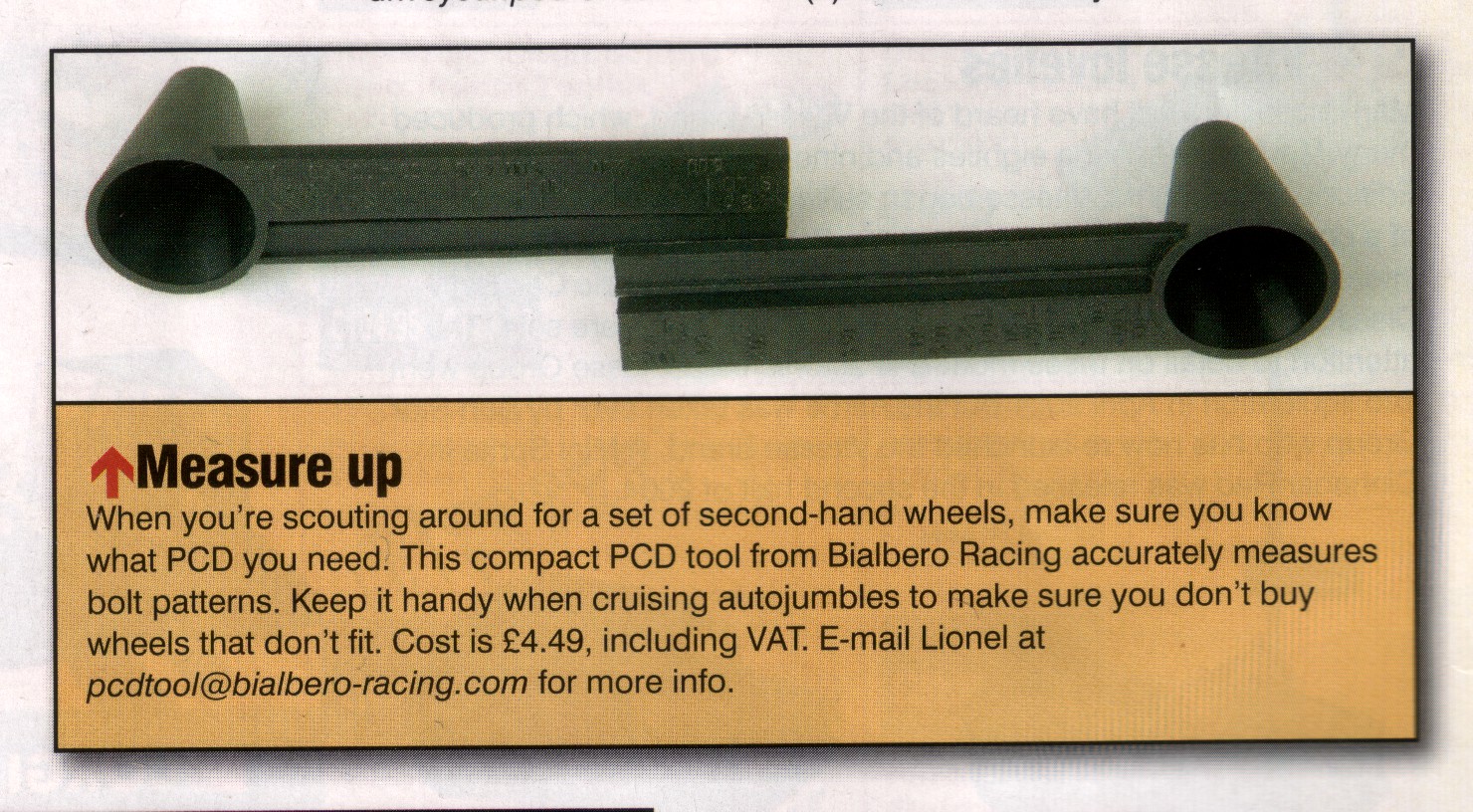 Classic Ford June 05